job description
We are seeking a driven, detail-oriented Front-end engineer who is proficient with JavaScript knowledge and keen to use the very latest in web technologies, and experienced in developing highly polished websites for clients. Strong passion for web development​, eagerness to apply new technologies at work​.

You will be working closely with our amazing design team, other front-end developers, team leaders, back-end developers, and project managers to deliver world-class publicly visible websites.
Requirements
Strong knowledge of HTML5/CSS3 (Bootstrap, Zurb Foundation is a PLUS);
Solid understanding of Javascript coding (jQuery or ES6, etc);
Knowledge of SASS/LESS, Grunt/Gulp, or Webpack and PWA;
Experience with VueJS or ReactJS (Vue Storefront is a big PLUS);
Strong UI/UX experience and pay attention to improve website performance;
Ability to implement complex sequences using Velocity, GSAP, or similar;
Experience in Agile Development methodologies, SCRUM process;
Strong aesthetic sense and good understanding of motion is PLUS (i.e: Google motion design);
Ability to communicate, read, and write in English.
Who will you work with?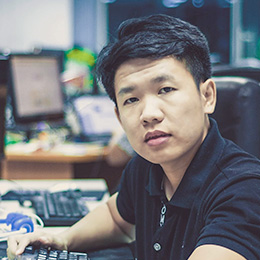 Sutunam Senior Developer, Huy leads the front-end team with his amazing open-mindedness and collaborative spirit. As an organized person who is always inspired to create beautiful website, he loves to share his rich technical knowledge about enhancing website UX.
Huy NC, front-end developer
Key responsibilities
Convert designs to HTML/CSS documents using Sketch/Photoshop/Illustrator/Zeplin. Your products should be well-structured, SEO friendly, flexible to customize and be compatible with modern browsers;

Customize website interface using HTML/CSS/JavaScript to adapt requirements from client (Symfony and Magento);

Stay up-to-date on the latest developments and trends in web design and development;
Collaborate with design team to build UI/UX competency, and participate in designing stages proactively to build responsive and interactive websites;

Work with interaction, motion, slick animation, beautiful scrolling, and stunning transitions.
Race to be an expert at Sutunam
Starting point

NEW LEARNER, FRESHER/ JUNIOR

Coding and learning enthusiasm, work ethics (good attitude and behaviors), long-term thinking, fast-learning, pro-activity.

Communication skills, Problem solving, Time management.

Middle

2 TO 4 YEARS PHP EXPERIENCE

Qualification: Think out of the box, Helpfulness.

Critical thinking, Adaptability, Organization skills.

Upper middle

4 TO 6 YEARS PHP EXPERIENCE

Accountability, Empathy (towards both Clients and PM).

Business mindedness (client-focused), Prioritization.

Technical leader

6 TO 10 YEARS PHP EXPERIENCE

Accountability, Big-picture thinking, trend-catching, leadership.

Business management, advanced planning, networking, advanced training.